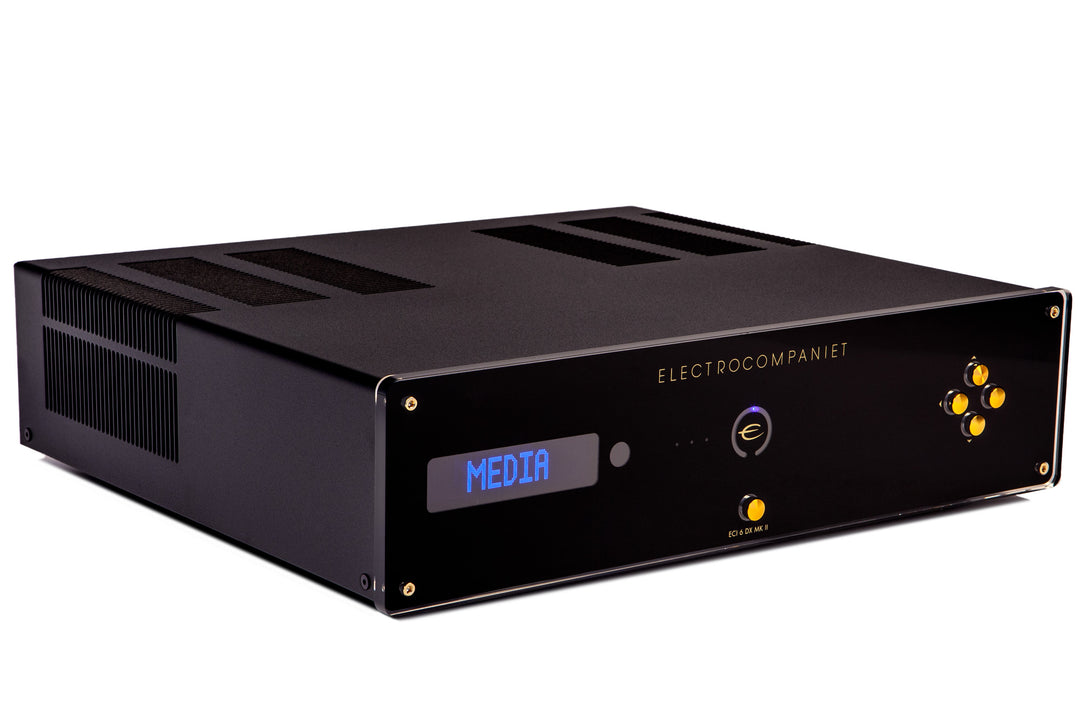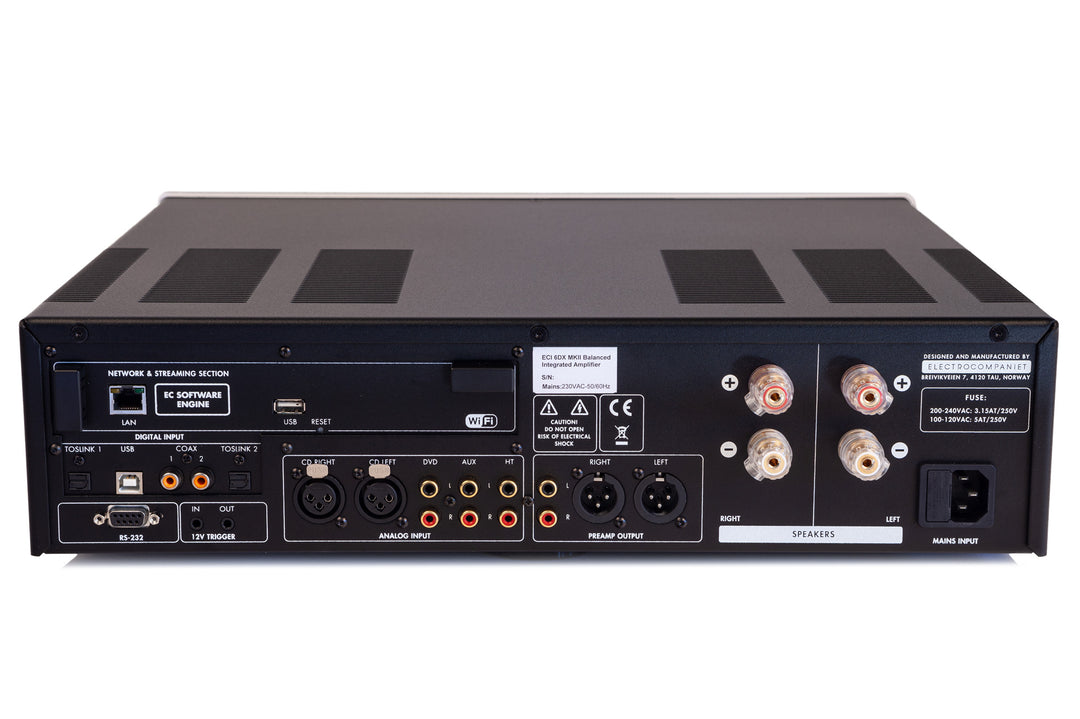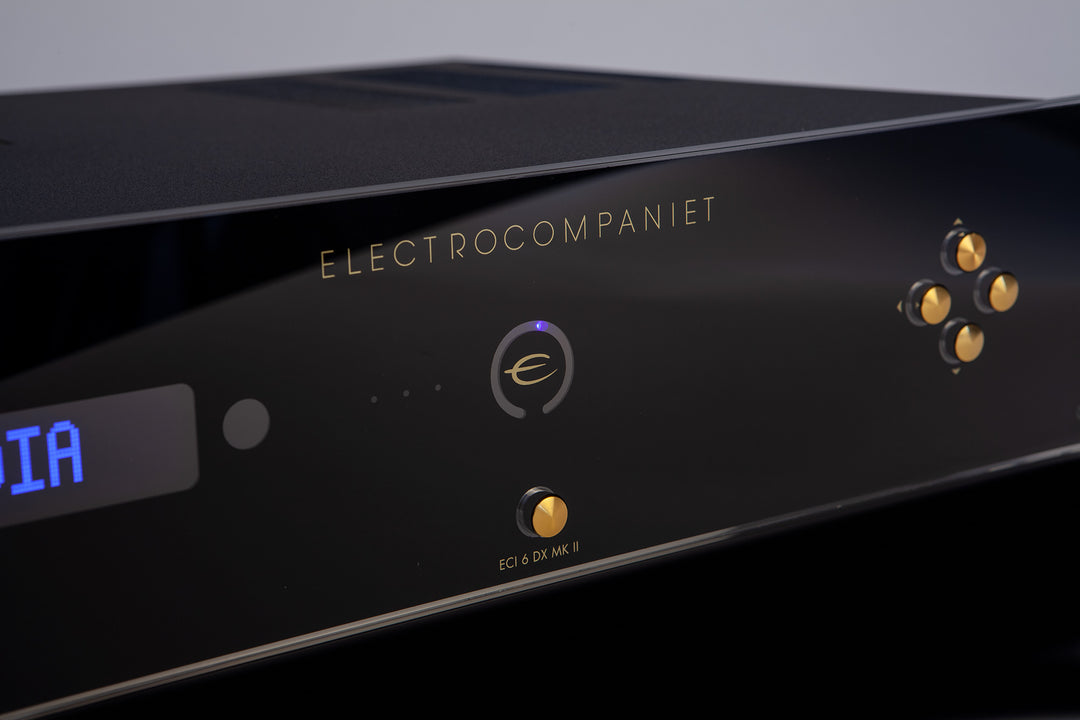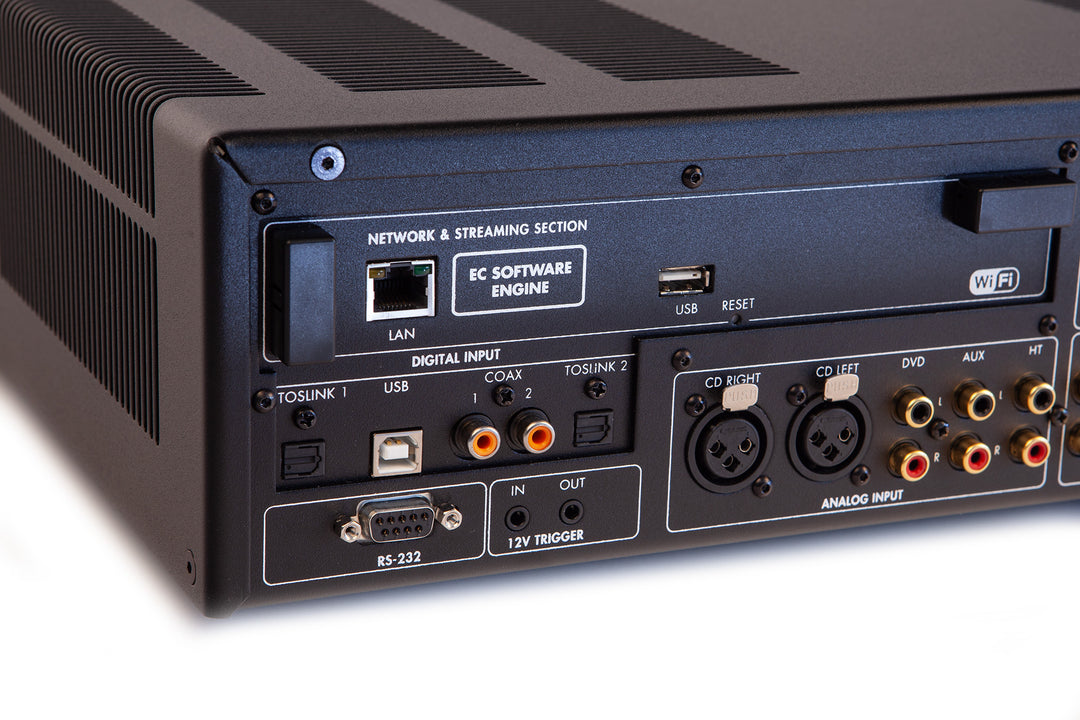 ECI 6 DX MKII Integrated Amp/DAC/Streamer
 The new ECI 6 DX MKII combines a best-in-class feature set with cutting edge audio technology and true Electrocompaniet sound.
This single unit is able to play whichever, wherever and whatever audio source you may have, and makes it sound like music was meant to be sounding.
EC Living Line
Digital
Pre-amplifiers
Power amplifiers
Integrated amplifiers
All measurements are made at 120V / 240V  //50Hz / 60Hz

Digital section:

 

D/A converter

24 bit/192 kHz

Sample rate converter

24bit / 192kHz

Inputs

SPDIF, 2x Toslink, 1x USB

USB:                                    

asynchronous  up to 24bit/ 192kHz supported

SPDIF:                                 

24bit/ 192kHz

Toslink:                               

24bit/ 96kHz

 

Streamer section
• Advanced 802.11 AC WiFi with MIMO
• 1x Gigabit Ethernet (1000Mbps)
• 1x USB for external storage
• iOS, Android and web app

Streaming services


• AirPlay ®
• AirPlay 2 ®* 
• Spotify ® Connect 
• Qobuz ®
• TIDAL ® 
• TIDAL ® Connect 
• Roon Ready
• DLNA
• Internet Radio
• Bluetooth streaming from any Bluetooth enabled device


* Future software update.

 

 

 Supported formats:
• All popular formats including: WAV/WAVE, MP3, AAC+, Vorbis, ALAC, FLAC, APE, WMA, up to 192kHZ/24bit, DSD, up to DSD 128 (5.6 MHz)

Preamplifier section

 

Input impedance

( Balanced input )

47Kohm

Maximum input level

10 Volt RMS

Noise floor

( 1Vrms, 20 - 20 kHz, balanced)

-135 dB

THD + N  

(1Vrms, 20 - 20 kHz, balanced)    

<0.004%

Gain (Balanced)

0 dB

 

 

Amplifier section

 

Output Impedance

< 0,02 Ohm

Frequency response

1 – 150 kHz

Channel separation

> 120 dB

THD ( 20 - 20 kHz)

< 0.004%

Maximum peak current

>100A

Damping factor  8 ohm load

>350

I Input sensitivity  120W output

1.3Vrms

Input sensitivity HT  120W output

1Vrms

Gain HT Input

x36 (31 dB)

Rated output power

 

8 ohms

2 x 125 W

4 ohms

2 x 200 W

2 ohms

2 x 370 W

Power consumption               

110 W

Standby

1W

(no load or signal)

 

 

 

Dimensions

 

Width

470 mm / 18.3 inches

Depth ( with a speaker terminals)

430 mm / 16.9 inches

Height

128 mm / 5 inches

Weight

20,5 Kg / 45 lbs.
UNAUTHORIZED DEALERS WARNING
Electrocompaniet products are sold internationally through a network of authorized distributors and dealers selected by Electrocompaniet. These representatives have been chosen for their ability to properly represent Electrocompaniet. Unfortunately, Electrocompaniet products are sometimes sold by companies that are not authorized to do so. These unauthorized resellers do not purchase products directly from Electrocompaniet, they acquire the goods from other sources. Due to this nature, Electrocompaniet goods sold by unauthorized dealers are not entitled to Electrocompaniet warranty coverage. We urge you to use caution when making a Electrocompaniet purchase from an unauthorized reseller. they come through shady "gray market" channels and there will be NO WARRANTY. Electrocompaniet only honors warranties on products sold through Authorized Electrocompaniet distributors and dealers. Authorized Electrocompaniet Dealers will NEVER match the prices offered in these shop and on these sites. We offer exceptional products and we invite you to hear that difference. Sit down today in an Authorized Electrocompaniet Dealer's store and listen — one more thing those online sites can't offer — an in-store demo! Please check with your local distributor or us if you are uncertain, or contact us.