ELECTROCOMPANIET –
Made in Norway.
Factory tour
Some manufacturers just slap their logo on a Chinese-built product and call it "Made in Norway". That is far from good enough for Electrocompaniet. They both develop and produce in Norway.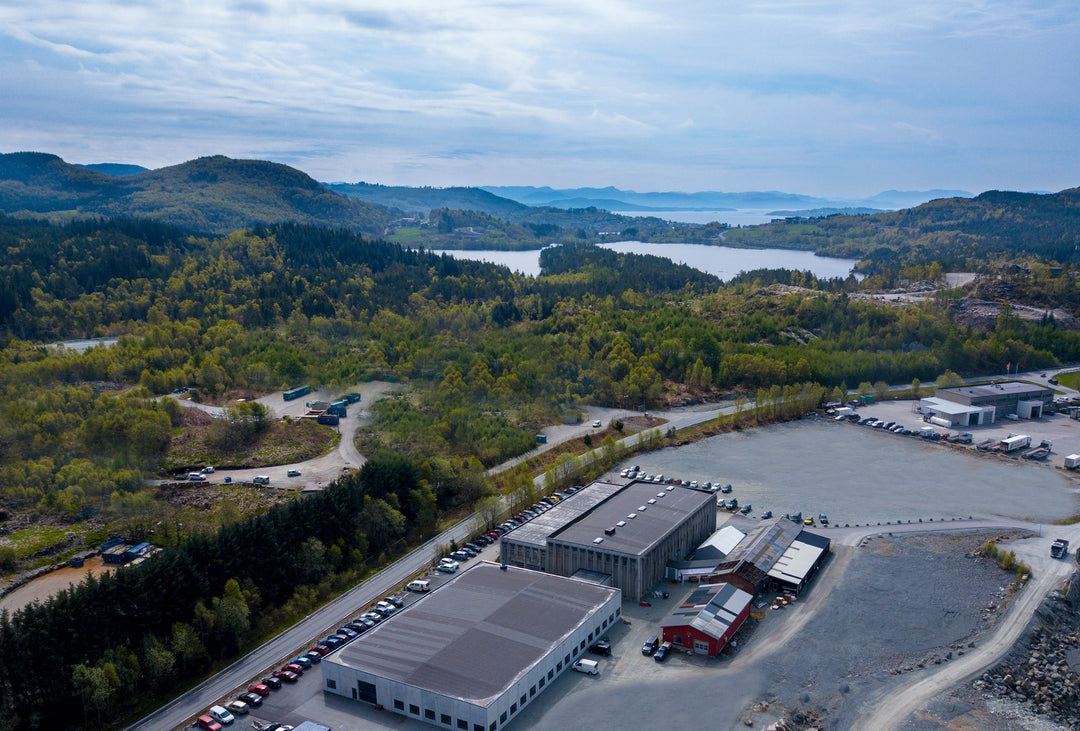 In the fjords of Norway
The factory is located in beautiful surroundings in Tau, outside Stavanger. 
Electrocompaniet has always, since its beginnings in 1972, been a really serious maker of Hi- Fi equipment, aiming at bringing the best sound possible to a demanding market. It is inherently Norwegian, and the product design speaks of timeless nordic minimalism. This is fully grasped in the important international marketplace, Electrocompaniet´s main market. Only a fraction of the products are sold in Norway, the remainder being shipped to customers overseas, with USA as the largest market.
There are a few other makers of hi-fi in Norway, but unlike Electrocompaniet none of them both develop and produce natively.This is of course of great importance, since coming across all viking-like has great international appeal. One could very well think that staying competitive would be next to impossible, given that Norwegian wages are five to eight times higher than say, China. Especially when the aim is to really make a splash in the international market with the sleek EC Living multiroom series of products. But Electrocompaniet really has a card up its sleeve. They run one of the most advanced factories in the entire business!
New owners.
In 2007 a new proprietor took the reigns, having the financial strength needed and Electrocompaniet was given a new boost. The company that did it all was Westcontrol, situated at Tau just outside Stavanger, Norway. Their business was and is production of electronics. Their products are used in helicopters, industrial robots, battery chargers for electric cars, and automatic systems for running fish farms, among many other things. And everything is made in-house. Since then, all and every aspect of Electrocompaniet production has taken place at Tau. Many of the old engineering-staff came to work for the new Electocompaniet. One of them being one of the "veterans", Technical manager Volker Hunger.
We have reviewed many of the Electrocompaniet products through the years, but for some reason, we have never visited the factory at Tau. This had to be rectified, so I was invited to Tau to take a look at how things are done. After a boatride from Stavanger, I was met by quite an impressive sight. I thought I would find a modest factory, but found something else entirely. A very large production facility with almost gigantic and automated production lines.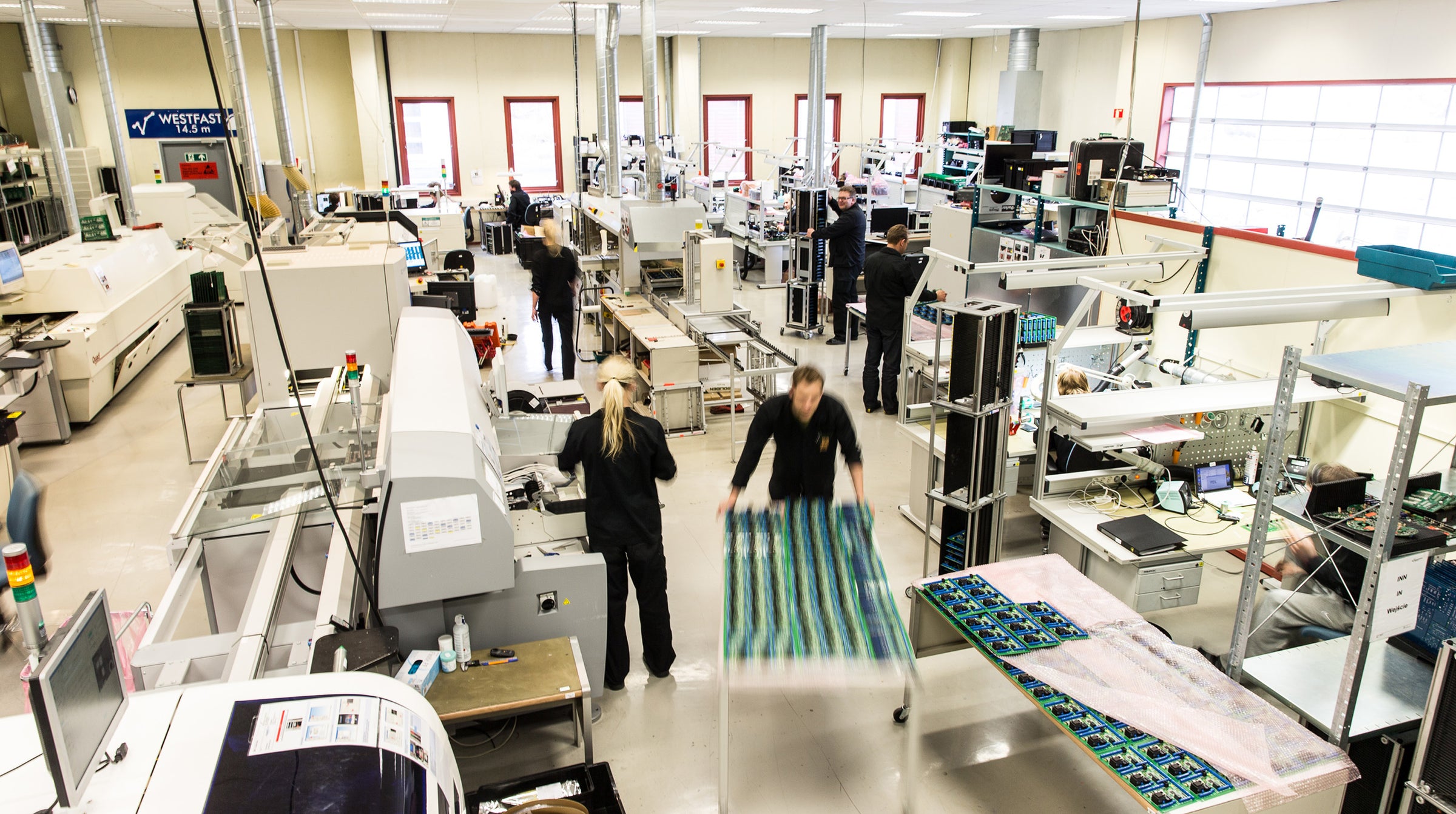 PRODUCTION FACILITIES
State-of-the-art production
The large production line takes up most of the floorspace. It's enormous! Circuit boards and
other components move on conveyor belts from one machine to the next, and most assembly work is automated.
It all starts with the innards. Transistors, resistors and all other micro-components come in on large rolls that gets mated into a large machine that automatically and swiftly puts all components in their correct place on the circuit boards. These boards have more and more components put on while moving through the machine. At the end of the journey, the circuit board floats on a sea of solder, having all components thoroughly soldered in place. This makes for a very consistent production. If you buy an amplifier today, it will be identical to the same model two years on. That means that if you buy more components, need to have something new for your hifi setup, or need to change some components, what you hear will always be true to the Electrocompaniet sound that you are used to.
Wave soldering
All components in place, the circuit board floats on a river of solder.
All soldering done at once!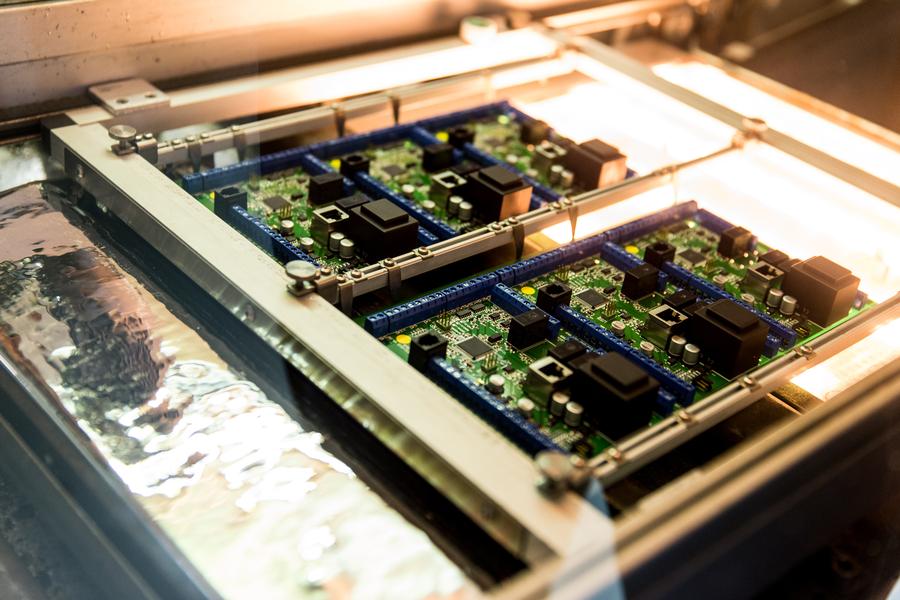 This makes for a very consistent production. If you buy an amplifier today, it will be identical to the same model two years on. That means that if you buy more components, need to have something for your hifi setup, or need to change some components the sound will always be true to what you are used to.
Impressive machinery
There are lots of impressive machines. Some with artificial intelligence keeping track of production quality. X-ray macines are used to see right through the whole product, exposing any possible faults. There is even a microscopic "solder fountain" for use with double-sided circuit boards. While walking through the production line, I begin to recognize the products being made. Halfmade AW250Rs lined up for final assembly. The new EC Living subwoofer on its own shelf. All made here at Tau, from circuit boards to finalized products.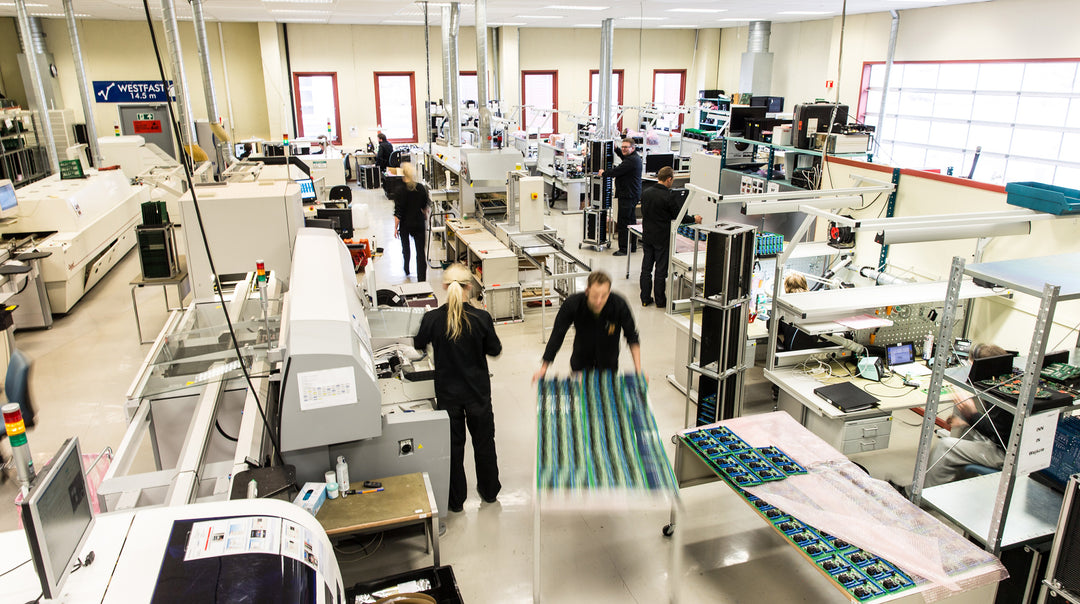 FACTORY
It is easy to be impressed by the size and scale of all this.  For a maker of Hi-fi, we are unusually big when it comes to scale and volume. Not many of our competitors can match us when it comes to this, and through Westcontrol, we can get hold of machinery and equipment not obtainable by the rest of the industry.
That's probably correct, because other factories I have visited in China and abroad seem to apply more manual labour, so to speak. A production line like that of EC/Westcontrol is quite another matter. With the possible exeption of Bowers&Wilkins in Brighton, I have never been to a HiFi-factory of this calibre, with such a degree of automation and super-advanced production.
Norwegian pride.
The Norwegian fondness of products produced in their homeland is something that seem to be buried deep within them. And come to think of it, it isn`t such a mystery. There is not many such products left out there, on account of the sheer cost involved. Norwegian workers earn five times that of their chinese "counterpart", and governmental workforce tax, paid leave and pensions ups the ante by yet another thirty percent. So it really is impressive being able to produce HiFi on this scale here at all. Because of the degree of automation, Electrocompaniet can do so much more with fewer employees. This enables them to keep all production here, while they pay good, Norwegian wages. Norwegian workmanship costs a lot more than Chinese, but the fact that machines do a lot of the work, the production cost is about the same as the competition. Furthermore, it means that the time frame from idea to finished product is kept much shorter.